Category: Blog Tours
This week, theChristian Fiction Blog Allianceis introducingGabriel's BrideB&H Books (February 1, 2014)byAmy Lillard
Title: Killer Image Author: Wendy Tyson Publisher: Henery Press Pages: 324 Language: English Genre: Mystery/Psychological Thriller Format: Paperback ($14.96) & eBook ($2.99) Purchase at AMAZON As Philadelphia's premier image consultant, Allison Campbell helps others reinvent themselves, but her most successful transformation was her own after a scandal nearly ruined her. Now she moves in a world of powerful executives, wealthy, eccentric ex-wives and twisted ethics. When Allison's latest Main Line client, the fifteen-year-old Goth daughter of a White House hopeful, is accused of the ritualistic murder of a local divorce attorney, Allison fights to prove her client's innocence when no one else will. But unraveling the truth brings specters from her own past. And in a place where image is everything, the ability to distinguish what's real from the facade may be the only thing that keeps Allison alive.
Warrior's Moon Medieval Historical Romance by Jaclyn M. Hawkes Never in all the kingdom has there been a more brave and protective champion. Nor such a loyal and capable maiden. And they loved each other desperately. But is their love strong enough to withstand all their dark age holds—danger, feudalism, disease, and unfair oppression? Yes, they truly loved each other desperately. They loved their kingdom more.
A Bullet For Carlos Giacomo Giammatteo Inferno Publishing October,2012 421 Pages Purchase: Amazon RBM's Disclaimer Detective Connie Giannelli's life has been torn apart several times. First when her mother died and then years later when she found out her Uncle Dominic was in the mob. Her life is about to be shredded again, and this time it could destroy her. Connie's love of family and her badge are both threatened when an undercover drug bust leaves two cops dead and the drugs missing. Internal Affairs is looking for any excuse to take her badge, but she's not worried about them finding the missing drugs—her secrets could prove to be far worse. Now Connie's racing against the clock to figure out who killed her partners and took the drugs—dirty cops or Uncle Dominic's friends. And she has to do it before IA pins the whole damn thing on her. EXCERPT: A Bullet for Carlos BLOOD FLOWS SOUTH: BOOK I a novel by Giacomo Giammatteo La famiglia è tutto Family is everything Dominic Mangini Chapter 1 A Present for Maria Brooklyn, New York—Winter 1982 Zeppe Mangini paced the busy sidewalk while nursing a cappuccino. He felt it was a sure sign that… Read more »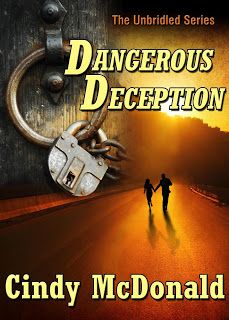 Dangerous Deception Cindy McDonald Acorn Book Services Nov 1st,2012 235 Pages Purchase: Amazon RBM's Disclaimer Vic Deveaux's glory days as a winning jockey have ended, but he refuses to accept that pile of horse hockey! When the West family asks Vic to take an easier position at their Thoroughbred farm, Westwood, he becomes enraged and teams up with two greedy stable hands in a scheme to kidnap the youngest son, Shane. Things turn ugly when Vic discovers that his new-found friends have murder on their minds. Suddenly Vic finds himself between a rock and a hard place. He has betrayed his good friend, Eric West, but will he participate in his son's murder as well? Not content to sit at home and wait for her men to bring her brother home, Kate West convinces homicide detective, Carl Lugowski, to check out a hunch at an old abandoned mansion. Soon they're trapped in a hornet's nest of a notorious biker gang. Oh yeah, Vic's deception has placed the West family in more danger than they know what to do with! EXCERPT: The fading sunlight seeped through the curtains, shimmering over the silky white Persian cat, Stella, sleeping on the window sill…. Read more »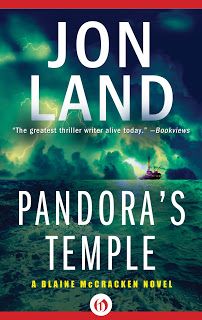 Pandora's Temple Jon Land Open Road Integrated Media Nov 20th,2012 390 Pages Purchase: Amazon RBM's Disclaimer What if Pandora's box was real. That's the question facing Former Special Forces commando and rogue agent Blaine McCracken who returns from a 15-year absence from the page in his tenth adventure. McCracken has never been shy about answering the call, and this time it comes in the aftermath of deepwater oilrig disaster that claims the life of a one-time mem-ber of his commando unit. The remnants of the rig and its missing crew lead him to the inescapable conclusion that one of the most mysterious and deadly forces in the Universe is to blame—dark matter, both a limitless source of potential energy and a weapon with unimaginable destructive capabilities. Joining forces again with his trusty sidekick Johnny Wareagle, McCracken races to stop both an all-powerful energy magnate and the leader of a Japanese dooms-day cult from finding the dark matter they seek for entirely different, yet equally dangerous, reasons. Ultimately, that race will take him not only across the world, but also across time and history to the birth of an ancient legend that may not have been a legend at all. The… Read more »
Self Published October 2012 Purchase: Amazon It is the phone call every person lives in fear of receiving. There has been an accident and your loved one is paralyzed. A spinal cord injury is the single most devastating and life altering event. Based on a true story, Michael and Donna were young, successful, in love and planning their life together. That life was radically changed by a tragic car accident. Now a wheelchair user as a quadriplegic, with limited movement, constant infections and multiple surgeries, doctors projected Michael's best case life expectancy to be five years. See how this young couple battles through his injury and spends his five years making a lasting impact on hundreds of people. It will make you realize what can be accomplished when a person does not let circumstances dictate their life. About The Author: Frank Zaccari is a native of western New York. He received his bachelor's in finance from California State University at Sacramento after serving as a military medic in the United States Air Force. He spent more than two decades in the technology industry, holding various positions from account representative to CEO. He also spent time specializing in turn-around management of… Read more »
Dangerous Past A.F. Ebbers Silverhawk Books September 8th, 2011 240 pages Amazon B&N RBM's Disclaimer Airline Captain Frank Braden and his wife Nicole are suddenly stalked by professional assassins who have a deadline to make their deaths look like an accident or a suicide. And the couple doesn't know why they are being targeted. They don't realize that they stand in the way of a deadly conspiracy. Little by little they are pulled into a dangerous web of intrigue by a murderous criminal network that deceptively offers the pilot his wife's life if he will concede to their demands. This is a thriller that rocks the highest levels of Washington. Dangerous Past is a story of a man who must choose between doing what ought to be done or keeping his family alive by allowing a murderous and powerful VIP to escape his past.
Sasha Plotkin's Deceit Vaughn Sherman Camel Press August 1,2012 320 pages Amazon B&N RBM's Disclaimer It is 1972, and the Soviet Union has succeeded in planting a mole in the top echelons of the Central Intelligence Agency. Three years earlier, CIA officer Chris Holbeck took part in a failed mission to engineer the defection of a Soviet KGB officer who may know the mole's identity. His name is Sasha Plotkin. When they were both stationed in Stockholm, Sweden, in 1969, Chris and Sasha connected on a personal level. Chris was excited to find a KGB officer interested in changing sides. Then, on the day of the Soviet agent's defection, Sasha was a no-show. Chris would soon discover the full extent of Sasha Plotkin's deceit. Now Sasha has resurfaced and wishes to make another attempt to defect. To Chris' dismay, he is the only CIA officer the man will consent to deal with, even though their once close relationship is now riddled with mistrust. Chris's wife, Lisa, has sworn to leave him if he abandons her and the family for one more perilous mission. His alluring young colleague Bisan seems determined to seduce him. Despite the risk to his life and… Read more »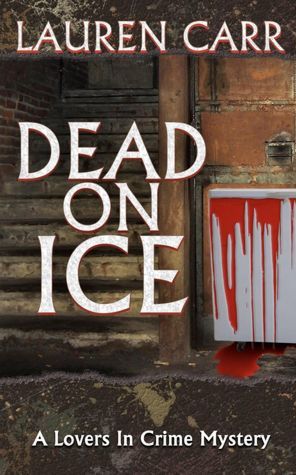 Dead On Ice Lauren Carr Lovers In Crime series, #1 Acorn Book Services September 10,2012 234 pages Amazon|B&N RBM's Disclaimer In this Loves in Crime Mystery, Spunky Pennsylvania State Homicide Detective Cameron Gates is tasked with solving the murder of Cherry Pickens, a legendary star of pornographic films, whose body turns up in an abandoned freezer. Dead on Ice is the first installment of Lauren Carr's new series (Lovers in Crime) featuring Hancock County Prosecuting Attorney Joshua Thornton and Pennsylvania State Police homicide detective Cameron Gates. In this Loves in Crime Mystery, Spunky Pennsylvania State Homicide Detective Cameron Gates is tasked with solving the murder of Cherry Pickens, a legendary star of pornographic films, whose body turns up in an abandoned freezer. The case has a personal connection to her lover, Joshua Thornton, because the freezer was located in his cousin's basement. It doesn't take long for their investigation to reveal that the risqué star's roots were buried in their rural Ohio Valley community, something that Cherry had kept off her show business bio. She should have kept her hometown off her road map, too—because when this starlet came running home from the mob, it proved to be a fatal… Read more »