Category: Book Spotlights
This week, theChristian Fiction Blog Allianceis introducingThe Ether: Vero RisingZonderkidz (February 4, 2014)byLaurice E. Molinari
Tea And Primroses by Tess Thompson 250 pages Purchase: Amazon B&N ADD TO GOODREADS Nothing is as it seemed in calm, quaint Legley Bay. Famous novelist Constance Mansfield lived a seemingly straightforward – if private – and somewhat predictable life. Friends, beloved daughter Sutton, a beautiful home, and all the success an author could wish for. A perfect life….but was it? When a hit and run accident suddenly takes her mother's life, Sutton finds hidden secrets with her heartbreak. Emotional walls she assumed Constance had built to protect her privacy may have been to protect something – or someone – else entirely. Family and friends return home for support, including her own lost-love, Declan. He's the first thing she craves to help her cope with her loss and the questions she's left with, but he's also the last person she wants to see. Will he be able to put down roots at last? Can the loss of true love be the making of a life, or is it destined to be the undoing of everything? When money, power and love combine across time, anything is possible.
There is a mystery in Wildwood Creek's history, a mystery that affects Allie's present… Wildwood Creek by Lisa Wingate Christian Romance Paperback, 384 pages February 4th 2014 by Bethany House Publishers Allie Kirkland has never been one to take wild risks. But when she's offered a costuming assistant's job on a docudrama in the hills near Moses Lake, she jumps at the chance. She's always dreamed of following in her director-father's footsteps, and the reenactment of the legendary frontier settlement of Wildwood is a first step. The family expectations will have to wait. But in 1861, the real Wildwood held dangerous realities. Town founder Harland Delevan held helpless residents, including young Irish schoolteacher Bonnie Rose, in an iron grip. Mysterious disappearances led to myths and legends still retold in the folk songs of Chinquapin Peaks. Eventually, the entire site was found abandoned. When strange connections surface between Allie and the teacher who disappeared over a century ago, everyone in Wildwood, including Allie's handsome neighbor on the film set, Blake Fulton, seems to be hiding secrets, and Allie doesn't know who she can trust. If she can't find the answers in time, history may repeat itself . . . with the… Read more »
The Boleyn Bride Brandy Purdy Kensington Publishing February 25, 2014 272 pages Amazon BN ADD TO GOODREADS From carefree young woman to disillusioned bride, the dazzling lady who would become mother and grandmother to two of history's most infamous queens, has a fascinating story all her own… At sixteen, Elizabeth Howard envisions a glorious life for herself as lady-in-waiting to the future queen, Catherine of Aragon. But when she is forced to marry Thomas Boleyn, a wealthy commoner, Elizabeth is left to stagnate in the countryside while her detested husband pursues his ambitions. There, she raises golden girl Mary, moody George, and ugly duckling Anne–while staving off boredom with a string of admirers. Until Henry VIII takes the throne… When Thomas finally brings his highborn wife to London, Elizabeth indulges in lavish diversions and dalliances–and catches the lusty king's eye. But those who enjoy Henry's fickle favor must also guard against his wrath. For while her husband's machinations bring Elizabeth and her children to the pinnacle of power, the distance to the scaffold is but a short one–and the Boleyn family's fortune may be turning.
  So I just had to share with y'all! THIS is the cover for the future release of Ms. Showalter's third and final installment of The White Rabbit Chronicles!! I am in love!!! Look at it! It's got PINK! It makes it PERFECT! I can't wait to read it!
This week, theChristian Fiction Blog Allianceis introducingOnce Upon a Winter's HeartCenter Street (January 7, 2014)byMelody Carlson
Title:  Stronger Than the Rest Author:  Shirleen Davies Published:  January 13th, 2014 Word Count:  approx. 68,000 Genre:  Western Historical Romance Content Warning:   Mild Sexual Content Recommended Age:  18+ "Smart, tough, and capable, the MacLarens protect their own no matter the odds. Set against America's rugged frontier, the stories of the men from Fire Mountain are complex, fast-paced, and a must read for anyone who enjoys non-stop action and romance." Drew MacLaren is focused and strong. He has achieved all of his goals except one—to return to the MacLaren ranch and build the best horse breeding program in the west. His successful career as an attorney is about to give way to his ranching roots when a bullet changes everything. Tess Taylor is the quiet, serious daughter of a Colorado ranch family with dreams of her own. Her shy nature keeps her from developing friendships outside of her close-knit family until Drew enters her life. Their relationship grows. Then a bullet, meant for another, leaves him paralyzed and determined to distance himself from the one woman he's come to love. Convinced he is no longer the man Tess needs, Drew focuses on regaining the use of his legs and recapturing a… Read more »
Title:  Apocalipstick Author:  Lisa Acerbo Published:  August 1st, 2013 Publisher:  Eternal Press Word Count:  67,000 Genre:  Horror Paranormal Romance Content Warning:  Contains non-graphic zombie gore Recommended Age:  15+ Jenna should be having the time of her life at college. Instead, her only desire is survival. She lives in a world gone insane after a virus kills most of the population. Being alive after the apocalypse is bad, but when the undead return, hungry for humans, times turn darker. For Jenna and a small group of survivors, the goal is to reach the High Point Inn. At the inn, Jenna develops feelings for Caleb, who, while exotic and intoxicating, is not quite human. Will this new utopia last? Amazon US | Amazon UK | Barnes & Noble | GoodReads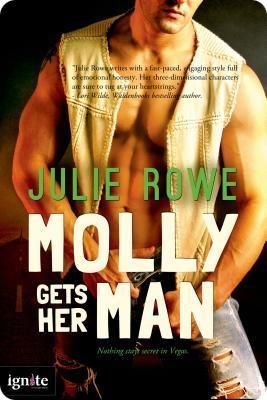 His Molly Gets Her Man Julie Rowe January 27,2014 163 Pages Purchase: Amazon RBM's Disclaimer When flaky Las Vegas hairdresser Molly McLaren overhears hears a Russian hit man planning to kill a US congressman and take out Hoover Dam in the process, she becomes a target for murder. Now, on the run from the assassin and a dirty cop, she winds up in an eighteen wheeler with an ex-cop sporting a bum leg, a bad attitude, and a body built for loving. Grey Wilson just wanted to be left alone. No more Las Vegas. No more casinos. And no more floozy women like the one his best friend sent him to pick up on the side of the road. She talks fast, but her endless curves and sensuous nature make him want to slow down. Which is not in the cards. Grey knows he needs to unload his excess baggage. And quick. But when someone tries to kill the Vegas beauty, Molly captures his heart with her backbone of steel, and brains to boot. Now in order to grasp the future that had once seemed impossible, Molly and Grey need to keep Hoover Dam, the congressman, and their… Read more »
This week, theChristian Fiction Blog Allianceis introducingGabriel's BrideB&H Books (February 1, 2014)byAmy Lillard